CASINO PLAYER MAGAZINE
The most informative, up-to-date casino news and information from casinos across the country. Every month you'll read expert strategies, money-saving advice, inside information, detailed slot payout percentages, expert insight on all your favorite games and much, much more!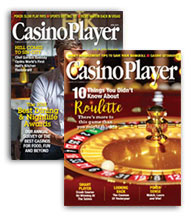 Subscribe here:
https://www.casinocenter.com/subs/cprenew.html
GAMING & LEISURE MAGAZINE
Gaming & Leisure is the exclusive management periodical uniquely serving all of gaming and hospitality in North America and abroad. Gaming & Leisure is published seasonally in the winter, spring, summer and fall noting that summer is released in digital only.
G&L Monthly is released via email every month. G&L Monthly is where you find your commonality with the influencers that interest you; and that's a great entry point to a good conversation.
Print subscriptions via the website are for one full year.
GLOBAL GAMING BUSINESS MAGAZINE
GGB Magazine, a division of Casino Connection Intl LLC, is the leading monthly gaming trade publication focusing on the international casino industry. Global Gaming Business is the gaming industry's complete source for business information.
Subscription shipped anywhere and includes 3 annual supplements:
Tribal Government Gaming
Casino Design
G2E Preview
INDIAN GAMING MAGAZINE
Indian Gaming Magazine is the premiere monthly publication devoted solely to the North American Indian gaming industry. In print since 1990, Indian Gaming is a must-read publication for those individuals and companies whose interests or business success is tied to the Indian gaming marketplace. Stay on top of news events and industry trends with this comprehensive monthly publication.
To begin your subscription, fill out the subscription form, include credit card payment info and fax to (509) 891-0580 or scan and email your completed form to [email protected].
TRIBAL GOVERNMENT GAMING MAGAZINE
TRIBAL Government Gaming is more than just a directory or resource guide.
TRIBAL Government Gaming features editorial coverage of cutting-edge issues such as tribal sovereignty, Indian gaming regulation, economic diversification, nation-building, compacts and more.
TRIBAL Government Gaming reaches key decision-makers in the indian gaming and traditional casino industries, including operators, regulators, manufacturers and vendors.
TRIBAL Government Gaming is a highly visible publication with a circulation of more than 17,000, including bonus distribution at NIGA, G2E and other appropriate trade shows and conferences.
To find out more information about the magazine, contact:
John Buyachek
Director of Sales & Marketing
Global Gaming Business magazine
702-248-1565 x227
[email protected]